Administrative Internship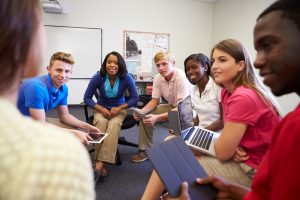 Cumberland County Schools partners with Fayetteville State University to develop future administrators. Students pursuing a certificate in School Administration are assigned to a school for a full academic year to shadow the school principal on a daily basis. We strive to place administrative interns in schools that will offer the developing leader a varied experience from their previous educational experience. When possible the intern is assigned to a school in a different attendance area from their work experience as well as a different school level than their experience. Administrative interns are also placed in challenging situations under the supervision of an effective principal who will help build the intern's skills in dealing with the challenges of poverty, transiency, and low school performance.

Educators who are working toward an administrative degree through a university that does not offer the full-time internship may request to complete the required university hours in their assigned school of employment under the supervision of the principal or an assistant principal. The school administrator may choose to supervise the individual during the internship.

The School Support Area Superintendents strive to know the administrative interns as they are completing the internship in the schools they serve. By supporting the aspiring administrators, getting to know their capacity as a leader, and providing the opportunity to shadow an effective school principal helps to build the pool of candidates for future leadership positions in the Cumberland County School System.
Contact Us
School Support Services
2465 Gillespie Street
Fayetteville, NC 28306
Phone: (910) 678-2495
Fax: (910) 678-2330

Betty Musselwhite
Associate Superintendent