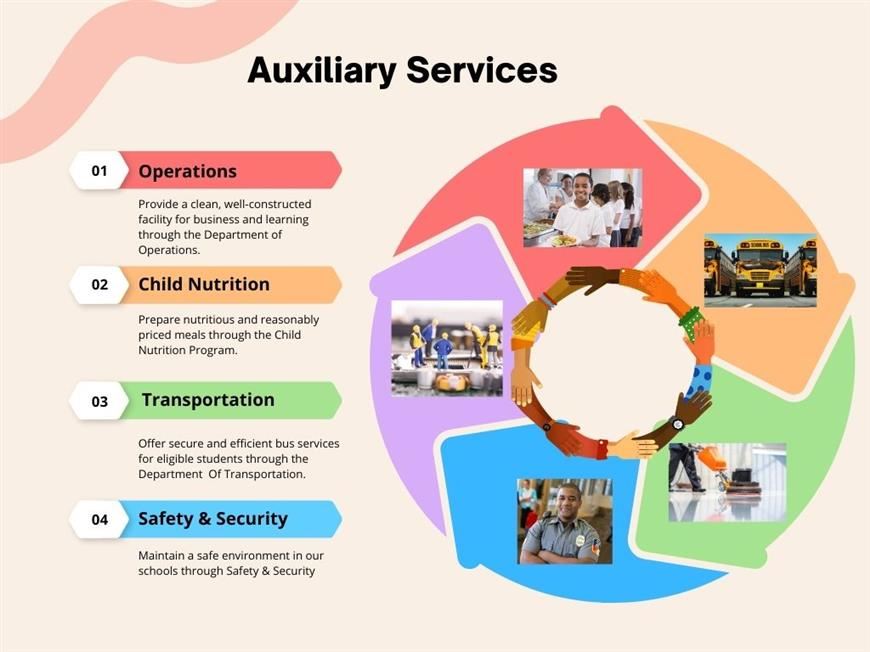 Department Overview
"Auxiliary Services is the Foundation of the Cumberland County School System that Supports each Facility on a Daily Basis"



Auxiliary Services are often known as the "Silent Partners" in Education. Child Nutrition, Operations, Safety & Security, and Transportation are the main branches of Auxiliary Services. Cumberland County Schools' Auxiliary Services with its more than 2,700 employees work behind the scenes to support 86 schools as well as Central Services through a wide range of goals and duties.


Contact Us
Auxiliary Services
810 Gillespie Street
Fayetteville, NC 28306
Phone: 910-678-2305

Kevin Coleman
Associate Superintendent
Department FAQs
How do I go about renting a facility within a school building?

Contact the school's bookkeeper for availability and to complete a facility contract rental. For guidelines, requirements, and cost please click 'Facility Rentals' under 'Quick Links' for more information.

How do I become a Vendor for Cumberland County Schools?

For more information contact Finance's Purchasing Department @ (910)678-2382.