FAQs
Please check the registration application for age/birthdate cut off for each session before you register your child.

You may obtain a duplicate certificate by contacting the Driver Education Center at 910-678-2526. You must have completed your driver education course with Cumberland County Schools.

The Driver Eligibility Certificate (DEC) is issued by the principal, or his/her designee, of the school that you attend. The DEC is only valid for thirty (30) days, so do not request one if you are not going to apply for your learner's permit within 30 days.

If you are home schooled, you must contact the Division of Non-Public Education in Raleigh, NC at 919-733-4276.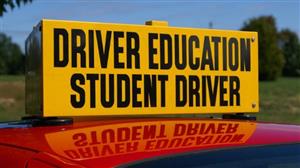 Parents and students can register on our website. Registration dates are posted. The link will be located on this page and will open on the day of registration from 8 am to 5 pm. Parents will receive a welcome email with a pay link ten days after registration if your student is selected for the class. Class times are subject to change. Instructors will email class schedules and class schedules can be found on the canvas homepage.

Registration date: January 8, 2024, 8 a.m. - 5 p.m.
(The link will open on the day of registration)
Spring 1 Class: January 29 - February 23, 2024

Registration date: March 25, 2024, 8 a.m. - 5 p.m.
(The link will open on the day of registration)
Spring 2 Class: April 15- May 11, 2024

Registration date: May 20, 2024 8 am - 5 pm.
(The link will open on the day of registration)
Summer 1 Class: June 10-26, 2024

Registration date: August 21, 2024, 8 a.m. - 5 p.m.
(The link will open on the day of registration)
Fall 1 Class: September 11 - October 5, 2024.

Registration date: October 16, 2024, 8 a.m. - 5 p.m.
(The link will open on the day of registration)
Fall 2 Class: November 6 - 30, 2024

---

If you have enough credits to graduate, and you're not enrolled as a student at your high school, please do not register.

Only students meeting the age requirement of fourteen and a half years of age can apply.

Driver and Traffic Safety Education involves all those learning experiences provided for the purpose of helping students learn to use motor vehicles safely, efficiently and effectively.

This objective is achieved through sequences of interrelated experiences involving both classroom (Phase 1) and behind-the-wheel (Phase 2) instruction. As mandated by the state of North Carolina, students who are under the age of 18 must complete a minimum of thirty (30) hours of classroom instruction and six (6) hours of behind-the-wheel instruction.

Students who are 18 years or older are not required to take a driver's education class and may apply for a learner's permit or driver's license at any NC DMV office.

Anyone under age 18 must be enrolled in school and be making progress toward a high school diploma or GED to stay eligible for a Driving Eligibility Certificate, which is a requirement for graduated licensing.

The N.​C. Division of Motor Vehicles revokes teen driving privileges when it receives notice from proper school authorities that an individual has dropped out.

Teen drivers will lose their license for 12 months or until they receive a Driving Eligibility Certificate or high school diploma, if they are either:



Suspended from school
Assigned to an alternative education setting for 10 consecutive days as a result of disciplinary action


Please Note:
Effective May 24, 2021, until Dec. 31, 2022, a person who is at least 16 years old but less than 18 years old may obtain a limited provisional license if the person has held a limited learner's permit issued by the Division for at least six months.