Return to Headlines
High School Visual Arts Students Honored at the Virtual Awards Ceremony for the 2021 High School Juried Art Show
On the evening of March 30, 25 high school visual arts students were honored by receiving awards at the Virtual Awards Ceremony for the annual High School Juried Art Show. Students competed for First-Place ($100), Second-Place ($75), Third-Place ($50) or Honorable Mentions in the categories of Drawing, Painting, 3D/Sculpture, 2D/Other and Digital Media/Photography. Student artwork was submitted by Cumberland County Schools' high school visual arts teachers for adjudication by a Guest Juror. Mr. Skylor Swann, Assistant Professor of Fine Art at Fayetteville State University, served as the Juror.
This school year, because of the restrictions of COVID-19, the High School Juried Art Show is being presented in a virtual format using a Google Website. The public is invited to view the outstanding
student artwork for the 2021 Art Show
.
Here is a listing of the high school visual arts students honored at the Awards Ceremony: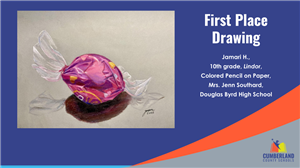 Drawing:
First-Place: Jamari H. 10th grade, Lindor, Colored Pencil on Paper, Mrs. Jenn Southard, Art Teacher, Douglas Byrd High School
Second-Place: Dakota A., 12th grade, Lost In Time, Colored Pencil, Mr. Kris Williams, Art Teacher, Gray's Creek High School
Third-Place: Thien N., 10th grade, Untitled, Graphite on Paper, Mrs. Morgan Bullard, Art Teacher, Cape Fear High School
Honorable Mention: Victoria M., 10th grade, Lo Siento, Graphite on Paper, Mrs. Jessica Dickerson, Art Teacher, Cape Fear High School
Honorable Mention: Asha S., 10th grade, Nature's Touch, Fine liner Faber-Castell on Paper, Mrs. Jessica Dickerson, Art Teacher, Cape Fear High School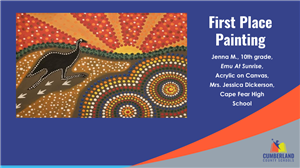 Painting:
First-Place: Jenna M., 10th grade, Emu At Sunrise, Acrylic on Canvas, Mrs. Jessica Dickerson, Art Teacher, Cape Fear High School
Second-Place: Meghan M., 12th grade, Smile, Acrylic on Canvas, Ms. Lorraine Hardman, Art Teacher, South View High School
Third-Place: Andrea J., 11th grade, Flowers and Morning Dew, 2020, Acrylic on Canvas, Mrs. Kellie Pfaff Perkins, Art Teacher, Terry Sanford High School
Honorable Mention: Yajahira C., 12th grade, Emergence, Oil Paint on Canvas, Ms. Terri D. Welsh, Art Teacher, Pine Forest High School
Honorable Mention: Ja'Lonya G., Isolation: Dedicated to my Brother, Acrylic on Canvas, Mr. Arnold Middleton, Art Teacher, Jack Britt High School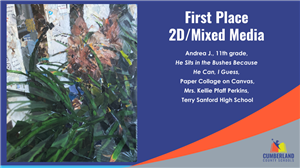 2D/Mixed Media:
First-Place: Andrea J., 11th grade, He Sits in the Bushes Because He Can, I Guess, Paper Collage on Canvas, Mrs. Kellie Pfaff Perkins, Art Teacher, Terry Sanford High School
Second-Place: Rachel W., 12th grade, Jane, Mixed Media (Watercolor, Craft paper, Colored pencil, ink and adhesive pearls), Ms. Erika Sieg, Art Teacher, Seventy-First High School
Third-Place: Deiryanne M., 12th grade, Tomorrow Land, Mixed Media, Mrs. Lorraine Hardman, Art Teacher, South View High School
Honorable Mention: Merryl O., 12th grade, Beauty, Mixed Media (gel pen, ribbon, fabric, textured paper, copic markers, ink, colored pencil, & fabric glue on mixed media paper), Mr. Brett King, Art Teacher, Massey Hill Classical High School
Honorable Mention: Kalissa J., 10th grade, Who I Am, Collage - pictures/magazine/own drawings, Ms. Maria Anglero, Art Teacher, South View High School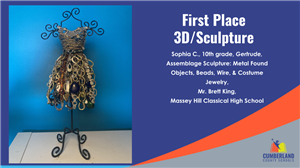 3D/Sculpture:
First-Place: Sophia C., 10th grade, Gertrude, Assemblage Sculpture: metal found object, beads, wire, & costume jewelry, Mr. Brett King, Art Teacher, Massey Hill Classical High School
Second-Place: Vedvy G., 10th grade, Introspection, Found Object Sculpture: Spray paint, nails, screws, artificial flowers, ceramic plate, terracotta pot, jar lids, lightbulb, soda can, Mrs. Namera Graybeal, Art Teacher, Westover High School
Third-Place: Alexandrea M., 12th grade, Low Relief Sculpture, Paper, Mrs. Jenn Southard, Art Teacher, Douglas Byrd High School
Honorable Mention: Abigail W., 12th Grade, "Dream Creature", Polymer Clay, Aluminum, and Wire, Ms. Erika Sieg, Art Teacher, Seventy-First High School
Honorable Mention: Ja'Lonya G., 12th, Deserted Future, Found Object Sculpture, Mr. Arnold Middleton, Art Teacher, Jack Britt High School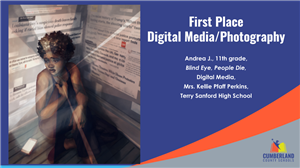 Digital/Photo:
First-Place: Andrea J., 11th grade, Blind Eye, People Die, Digital Media, Mrs. Kellie Pfaff Perkins, Art Teacher, Terry Sanford High School
Second-Place: Andrea J., 11th grade, Kudzu, Digital Media, Mrs. Kellie Pfaff Perkins, Art Teacher, Terry Sanford High School
Third-Place: Celeste McLean, 11th, Forced Apart, Digital Media, Ms. Maria Anglero, Art Teacher, South View High School
Honorable Mention: Jaydia W., 10th grade, The Fight of Good and Evil, Digital Media, Mrs. Jessica Dickerson, Art Teacher, Cape Fear High School
Honorable Mention: Harmony L., 10th grade, Euphoric Dream, Digital Media, Mr. Kris Williams, Art Teacher, Gray's Creek High School